You are enough, you deserve it, you are worthy, you are beautiful.
Showing up is fun, attracting soul clients and money happens because you love yourself
This is the secret of the Selflovepreneur. Do you want that too?

You deserve to feel worthy of success and belong to an epic sisterhood that is there for you!

Dear friend,
How are you feeling? Chances are that - since you're reading this - you're on the Hustle Struggle Road.

✔︎ Werk. Werk. Werk. has become the New Normal for many business owners. The masculine hustle way of business leaves many feeling exhausted, overwhelmed, and dissatisfied.

✔︎ You are not alone. Many entrepreneurs have been told that working 24/7 and following the gazillion so-called experts is better than listening to your heart, the power of self-love, and sisterhood.

✔︎ We offer a radically different self-love path towards True Prosperity for women who dare to leave the hustle road and grow an aligned highly profitable successful business - while enjoying the experience (byeee stress!)

✔︎ Results our clients are having? Super successful launches, amazing clients, happy days, divine worryfree holidays, business besties, a very healthy bank account, new houses and lots of real joy.
- drs Esther de Charon de Saint Germain
Self-love advocate and Business and Branding strategist

THIS IS HOW YOU CAN WORK WITH ESTHER


MEMBERSHIP AND PROGRAM
SELF LOVE SUCCESS CLUB
MONTHLY MEMBERSHIP, CANCEL ANYTIME
START LOVING YOURSELF NOW AND OPEN THE ABUNDANCE GATES
FOR:
Entrepreneurs at every level (starters and 100K +) who want to silence the inner voice of self-doubt and learn to fully love themselves

WHY:
Because you want to feel truly good about yourself (and you know that's how more money and clients can come to you)

You are always working too hard, because deep down you feel you don't deserve it. You're overwhelmed, and your Business is ruled by perfectionism, self-criticism and procrastination and shiny objects!

Even worse you can't seem to find a place where you can share what you really feel. A sisterhood of women entrepreneurs *Selflovepreneurs, who understand you.

WHAT:
Get access to the Monthly Self-Love Boost, Masterminding, Self-Love, Money Mindset, Self-Care programs, group happiness and mindset coaching, Creativity, Masterclasses where you learn Self-Love in Action and much more!

RESULT:
Daily self-love routine and action will transform feelings of self-doubt, hiding, struggling and not feeling like you deserve it into feeling marvelous about yourself, thus opening the doors to abundance, ease and happiness.

Way more fun and easy in entrepreneurship and wide open abundance gates.
THE BRAVE LEAP PROGRAM
YEAR PROGRAM
LOVE YOURSELF, SHOW UP, BRING CLIENTS HOME AND MAKE MONEY
FOR:
You followed your heart when you started your business. Expecting that your hard work would result in money. BUT everything is a challenge, clients don't understand your magic, and - worst of all - you start doubting your magic.

You feel stuck in the wrong bubble with people who also don't know what to do. Your negative self-talk is growing stronger by the day. And it's time to take a brave leap.

WHY:
Because you want to make 100K or more but are not prepared to pay for a program without expert support. You want a program that gives you unparalleled support and clear guidance, where we leave no one behind.

You want a roadmap, strategy, mindset and sisterhood, so that you can stop doing what doesn't work for you. No more working day and night without seeing the reward reflected in your bank balance.

WHAT:
The Brave Leap is a carefully curated program focused on generating much more revenue than what comes in right now.

We mixed prime content, proven methods, heart, soul and mind nourishment and very active action taking that will support you on your levels. And it all start with YOU loving yourself.

RESULT:
Lazy launches that bring in 45 new clients, making € 4,000 with one sales call, because you have the road map, finally publishing your book, seeing more money in your bank account than ever before, selling a program before you sell it. . .

It's all happening in the Brave Leap. In fact over 75 percent of Brave Leap members signs up for a second year because they want to grow even more!
FREE
Start for free with the Self Love Program



SELF LOVE SUCCESS CLUB
Monthly Membership
Cancel Anytime
Strengthen self-love, build your confidence overcome self-doubt
BRAVE LEAP YEAR PROGRAM
1 year of next level support and coaching for women entrepreneurs who want to love themselves, show up and get clients
CLIENTS
Selen Graf
We need to change the world! That's why you should work with Esther. This truly feminine approach is very unusual in the marketing world.
I found my zone of genius quickly, turned it in a program. and after only 1 Month I created - and sold - my first 12-month group coaching program for my soul clients
Health Expert & Healer for Animals and Human Beings
Shirley Ann Aphrodite
Esther's ability to dive right into the heart of the matter is incredible. I feel like she can always see right into my heart and my soul.
She attracts incredible women The sisterhood we have is the most beautiful thing in the world!
I can now talk about my business with more conviction. I am being more of myself. So much more!".
Artist and founder of Aphrodite's Finishing School
Mirjam Blekkenhorst
What exceeded my expectations is the great community Esther has managed to create around her services. Women from all over the world are really inspiring, helping and encouraging each other. The quality time Esther spends with her clients and the superb support she gives everybody is out of this world.
Owner Ytra Lón Farm Lodge, Solitude Retreats in Iceland
Ragnhildur Sigurðardóttir
I've got new clients because of the Brave Leap. Launching was always so hard for me. There are so many things to think about and I didn't know where to begin. Launching with my brave sisters has changed everything.
If you read this and you are thinking about joining because launching is too difficult, just do it!
Founder the Sunflower Yoga
---
Monthly Membership Cancel Anytime
The Self Love Path to true prosperity is all about simplicity, focus and a personalized approach.
We don't believe in One Size Fits All and generic content. We don't jump on the next trend. What works for one person does nothing for someone else.

You are too special to be crushed in huge groups where you are invisible and alone . Your message and your values are too important to remain unheard. As a Self Love CEO your result is much more than just the money. You want that path towards the money to be as enjoyable as the result.
True prosperity is all about feeling (and being) wealthy in all aspects of your business and life.


RESULTS OUR CLIENTS HAVE
MY OFFERS ARE FOR YOU WHEN . . .
---
---
CLIENTS
Rayna van Aalst
Working with Esther is the best thing I did for my business since I started it! Esther helped me reconnect with myself, get clarity on what I want and set a path on achieving that in a way I am comfortable with and it didn't take long to see the results. I often finish our sessions by calling her a "miracle-doer".
Coach and founder Reina Organics Beings
Janka Urbanová
Even though I was tired, afraid of showing up and I had little time, I launched my first online course. I did it! As a result, I got new clients.
I had so many participants in my launch. I feel more confident and I know how to sell my program.
If you are ready to sell and you don't want to be on your own, it's time to join the Brave Leap.
Founder Santala aroma therapy
Recipe for your profitable Selflovepreneur business
Start with three cups of unapologetic self-love (this is your foundation)


Your second layer consists of 2 cups of a mix of self-knowledge, zone of genius and unique brilliance (to make the business smooth and unforgettable)

Mix five cups of next level business, branding and marketing strategy (to make your cake unique and irresistible)

Remove all distractions like: generic content and 'you've got to do this trends' (they will delay financial results

Spoon in large amounts of loving mindset support (to keep you going)

Sprinkle two cups of golden sisterhood over the everything (to bring in the light)

Stir gently and consistently until ready to be served (so that you can reap the rewards in your bank account)
Rashmi Datt
Esther, just to say that I remember you often with great fondness. I have benefited a lot from being with you.
Your practical tips and seeing the real me hidden behind the veils of self-doubt enable me also to see me. in many ways it transformed me.
A big hug and thank you.
Acclaimed Author and
founder Manage Emotions to Win
Arati Bonte
What I learned is that with all the support you get from Esther and the team is how to launch.
I always thought that launching and selling for only for very experienced people but the Brave Sisterhood is amazing. I managed to launch for the first time and sold a program for a very good price.
It was really great to earn money this way and totally doable


WHAT WE HELP YOU TRANSFORM IS . . .
---


WHO IS ESTHER DE CHARON DE SAINT GERMAIN


READY TO GO NEXT LEVEL?
THRIVE MASTERMIND and ONE ON ONE


THRIVE MASTERMIND
FOR: Ambitious action takers (you can't wait to take action after each call), who more than willing to look at limiting beliefs and obstacles with the intention to break free, are not afraid to ask for support when they need it.
You currently make (almost) 6- figures and want to grow faster but feel stuck and tired.
ASK FOR MORE INFORMATION 👇🏽
BREAKTHROUGH BRANDING AND BUSINESS MULTIPLIER
FOR: Advanced Entrepreneurs who want to transform their business and brand into Money generating alignment so that they can enjoy their life again and increase their revenue
If you are finding yourself having to explain what your business is or does, why you are The One for your clients, or how your offer can help, then your business is out of alignment.
If you are resisting or finding yourself struggling to move your business forward, things that used to work have stopped working, you have lost your spark, then your mind (and heart) is out of alignment.
If you want to end the struggle, it's time for an in-person business upgrade
In 6 Months you aim for radical transformation, starting with aligning your brand, business, and mind so that money and clients can freely enter your business and life.

ASK FOR MORE INFORMATION 👇🏽
CLIENTS
Maria Stepanoff
Working with Esther is so much more than is described in the "brochure". She changed my self-image, self-perception, self-confidence - all for the better.
I am managing a 50M Finance Portfolio in a World Wide bank now where self confidence is what gets me through the most challenging tasks.


Felicite N'gijul
This was is and will be a defining moment in my life. I can see the difference, my friends do too. You helped me accept my fear, face and bless my past and dare to build a future for me, the people around me and the world. I am now living with open arms. I learned to ask for help and the answers were awesome... I could go on and on. It was deep.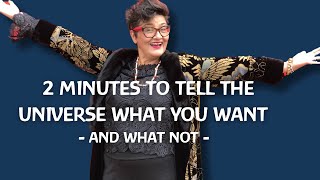 How to tell the Universe What you Really Want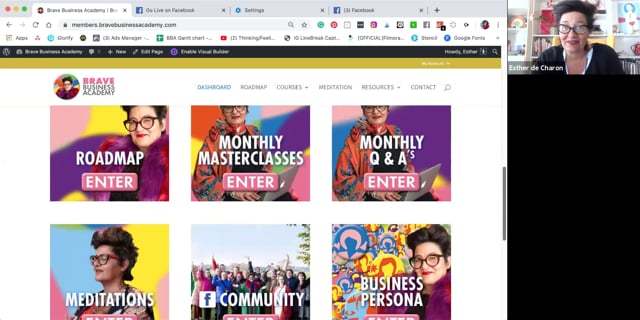 Inside the Brave Business Academy
Welcome to Brave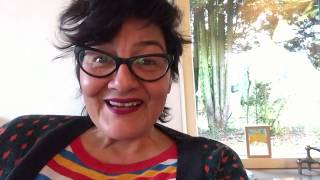 What to do When you Fear Speaking Up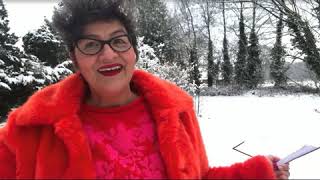 5 Super Simple Actions that will Transform your Business and Brand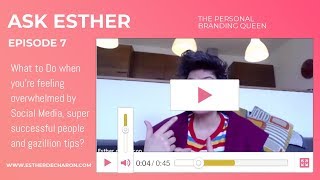 What to Do when you're feeling overwhelmed by Social Media
How to tell the Universe What you Really Want

<p>Are you struggling with the "How Can I communicate with the Universe and let it know what I want. And What I Don't Want!"?</p> <p>You're not alone.</p> <p>Like many Brave entrepreneurs, I feel overwhelmed too. I can go into a huge story about why and how. But instead, I made you a video (in a shirt that's covered in cat hair) with a very simple exercise that always helps me. And I think it will help you too.</p>

Inside the Brave Business Academy

<p>I took the upcoming members of the Brave Business Academy on a little Tour Inside. </p>

Welcome to Brave

<p>What does it mean? A Brave Busines and Brand? Everything you need to know.</p>

What to do When you Fear Speaking Up

<p>Do you fear to speak up? Or do you keep ideas to yourself? This is a super simple way to release fear and transform it into your strength. </p>

5 Super Simple Actions that will Transform your Business and Brand

<p>⭐️Is your business and brand in need of a little Oompf? ⭐️ I hear you. We all need a little 'Tadaaaa!' every now and then.</p> <p>So here are 5 Super Simple actions that will immediately affect you, your business and your brand.</p> ✅#1. Celebrate everything. "Wow, I made a dollar today!" "A new client!!" Yes! Take nothing for granted. Celebration leads to gratitude and that in itself is a powerful message to the universe: "I'm ready for more!" ✅#2. Watch your language. Do you say BUT in the middle of your sentence? Or: "They ALWAYS" or "Nobody EVER"? You are telling your mind - and the universe - that NOTHING will EVER change for you. Say instead: Some people ...or 'sometimes' and in comes Flow! ✅#3. Be Really curious. Don't take anything for granted. Don't think: 'I already know that' (remember your teenage years :-) When you're in closed-off mode there will be no new ideas or Divine Downloads (think of it as a street that is closed-off, nothing can enter the street. ✅#4. Accept that you ARE Unique The best thing about your brand is YOU! Right Now! Not when you Know More or have super pretty hair. It's Now! ✅#5. Understand that your business and brand ultimately is NOT about you, but about THEM! It's about your clients. Find out what it is they need that only YOU can help them with. Go out, meet them, go online and connect. </p>

What to Do when you're feeling overwhelmed by Social Media

<p>"What to Do when you're feeling overwhelmed by Social Media, super successful people, and gazillion tips?" We all experience it: Overwhelm! In this episode, I talk about what you should do when you are overwhelmed by your social media feed, and by all those super successful people you see, by countless tips coming at you from all sides. Those are the moments when you feel invisible, small, tired, somewhat lost - jealous maybe even at your peers. Because you feel like, 'they've got it all' - and secretly you start thinking about 'What it would feel like to give up on your entrepreneurial dream'... Before you give in to any thoughts of giving up on your dream, listen to this episode of ASK ESTHER and find out what you should do instead. Ask Esther is weekly live personal branding coaching, where I coach ambitious female entrepreneurs on how to get more clients, more revenue and more impact with their authentic personal brand.</p>