BRAVE
SELF LOVE SUCCESS CLUB
FOR: Entrepreneurs who want to become Queen of their Business
Are you Not Having the Success you Desire?

Because you are Invisible, Overwhelmed, Underpaid and your Business is ruled by Perfectionism, Self-Criticism and Procrastination!
be.
Gone are the days of self-doubt, hiding and struggling, instead you will nourish self-love and self-worth so that you become Queen of your Business, even when right now you feel more like an invisible lady-in-waiting.
SHOW

YOURSELF,


IT'S YOUR TURN

TO

SHINE

FREE 5 day Event June 14-18, 2012
FOR: Entrepreneurs dread to be visible and you want to Show Yourself (and loving it!)
WHAT YOU GET
1. Connect with new clients with our daily social media Prompts and Captions

2. Daily 10 minutes assignments that will transform self-doubt and hiding into effortlessly showing up

3. Access to Mindset Masterclass: "3 Secrets to Transform Self-Doubt and Self-Criticism into a Wildly Successful Business and Brand"
WHAT YOU LEARN
1. How To Become Friends with your Inner-Critic so that showing up becomes as fun as eating your favorite icecream.

2. How to double your clients and customers and bring in the revenue!

3. How people really see you and

how to leverage your unique personality and make future clients and customers fall in love with you * and buy from you!
THE BRAVE LEAP PROGRAM

12 months unprecedented Launch & Self Love action
FOR: Starters AND Advanced Entrepreneurs.

The Year Program that is the answer to: "There's a success story inside of me, but I can't figure out how to turn that into a money-generating business."

The Brave Leap is a Super Hands-On practical from Idea to Launch Program.
This is the roadmap that takes you from 'Dreaming-About-It' but 'All-Over-The Place' towards a strong business that generates money, even when you're having a hard time to always believe in yourself.
I help women entrepreneurs to have an unapologetic loving relationship with themselves as the foundation of a highly successful business that generates money, clients and a wonderful life.

Together we build a business and brand the Brave way. From the inside out.

We work with brave business women of all cultures, ages, sizes, and sexual orientation. They are sensitive, multi-passionate, courageous, smart and simply too phenomenal to fit the 'A to Z' business mould.

A PROFITABLE BUSINESS STARTS WITH YOU LOVING YOURSELF.

HERE'S MY HAND.

I WILL TAKE YOU THERE.


Are ...

an incredible fast learner, an 'everything-feeler'. There are 17 unfinished books on your night stand, your resume looks like the work of 6 different people and you're working on your Great Business idea du jour .

You always feel 'The-odd-one-out. You're here because you want success. Your version of success.

I have worked with way over thousand business women who felt like the black sheep, who were afraid to show up and regarded their traits - sensitivity, multi-passionate, and super smart brains as a flaw.

BUT
You have been given divine gifts. It's time you start using those in your business. Because it will be the way that leads to clients, income and impact.
This is what I know.

The divine has given you unique traits. They are NOT a flaw. It's your job to bravely step into your unique power and change your world by being more YOU.

Building and growing your Business and Brand starts with massive amounts of self-love and confidence.

IT'S TIME TO STOP THE FIGHT And be the pink flower in the green meadow.


You are here because
with every fiber of your being, you feel there's something out there for you that is So Much Bigger than what you experience right now.
You bought programs, worked with several coaches. It felt great for a while until you started doubting yourself again. Traditional programs skip the mindset part. They don't allow you to experience your magnificence. So now you think there's something wrong with you. IT'S NOT TRUE!

it's more important than EVER for you to Show Up, Stand Out, be Uniquely Different and have a fully aligned Business and Brand Strategy.




Because being different, standing out and showing up - not with more noise and muscle power, but by truly honouring your uniqueness, and with massive amounts of self-love - is by far the Most Effective way to the hearts and minds of your clients and customers.

Maybe you want to join the Brave Business Academy or a Brave Mastermind.
At the root of your genuine success is always self-love, confidence and the divine space where you are 'Who You Truly Are' is always .


"Working with Esther is so much more than is described in the "brochure". She changed my self-image, self-perception, self-confidence - all for the better. -- Maria Stepanoff
This is how we change your business, brand and life (and it starts with you)

We help you to become Irresistible with a personal Brave Brand and Business that is rooted in Self-Love and Acceptance. Growing your business starts with your brave personal brand that is the authentic path to Fame *and Fortune*

This is the path for courageous women entrepreneurs who dare to show up vulnerable and real, and have the audacity to be unapologetically themselves.



I invite YOU to come HOME.
You are never alone!

We've got you: body, soul, mind and heart.
We work with a unique method that brings together the empowering, spiritual and practical aspects of branding that will lead to a deeper inner transformation AND a brand that does the selling for you.

What we hear the most is: "This is so much more than branding, marketing and business strategy."

YOU ARE ON THIS WORLD TO HAVE A PROFOUND IMPACT AND PLAY A BIGGER GAME.

WE ARE HERE FOR YOU.

"AND ONE DAY MY SOUL EXTENDED ITS WINGS OUT WIDE - TOWARDS SKIES TO ROAM.

AND WHEN IT FLEW OVER THE QUIET LAND MY SOUL WAS FLYING HOME."

- after Joseph van Eichendorff, Mondnacht
Acclaimed Author and
founder Manage Emotions to Win
YOU SAW THE REAL ME HIDDEN BEHIND VEILS OF SELF-DOUBT
Esther, just to say that I remember you often with great fondness. I have benefited a lot from being with you.
Your practical tips and seeing the real me hidden behind the veils of self-doubt enable me also to see me. in many ways it transformed me.
A big hug and thank you.
HER SENSITIVITY TO ONE'S FEELINGS IS OFF THE CHARTS
Esther is a unique combination of motherly love and kick-ass inspirational coach. Her intuition and insight are razor sharp, her sensitivity to one's feelings is off the charts.

Working with Esther is so much more than is described in the "brochure". She changed my self-image, self-perception, self-confidence - all for the better.

I didn't start my own business, I am managing a 50M Finance Portfolio in a World Wide bank now where self confidence is what gets me through the most challenging tasks.

So don't think twice - whatever your plans are, Esther helps you grow"
Founder of Aphrodite's Finishing School
I AM CLEAR. AND I'M EXCITED ABOUT MY FUTURE!
Esther is amazing! There are two reasons why you've got to join this Program.

One: Esther's incredible ability to dive right into the heart of the matter. I feel like she can always see right into my heart and my soul.

Two: the incredible women that Esther attracts. The sisterhood we have is the most beautiful thing in the world!

I can now talk about my business with more conviction. I am being more of myself. So much more!
A Brave Brand
is founded by Esther de Charon de Saint Germain, < Self love advocate / business & brand strategist for brave women entrepreneurs who desire business growth and are ready to show up as a Pink flower in a green meadow

SELF-LOVE AND UNAPOLOGETIC SELF-ACCEPTANCE AS THE STRONGEST FOUNDATION OF YOUR PROFITABLE BUSINESS
A highly intuitive business soul whisperer, and author. She co-creates unapologetically authentic unique Brave businesses and brands for her super amazing brave clients.

With 25 + years expertise in branding, marketing, with brands like KLM/Air France. The European Union and ING Banking, Esther believes that we can transform the world - and ourselves - when we completely love and accept ourselves.

This kind of entrepreneurship is a great way to grow a very profitable business and brand and to feel truly alive. That's the power of Self-Love.
Esther lives with her husband and son, who both work in the Brave Business, this is a family business! - and 2 uber-confident cats in an old farm in the North of The Netherlands.

Esther is addicted to red lipstick, Jasmine tea, art museums, huge stacks of books and sad opera. (and shoes and handbags and colorful scarves and art supplies ....)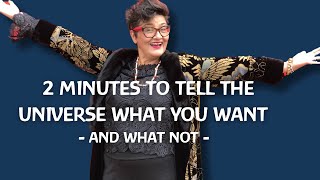 How to tell the Universe What you Really Want
Inside the Brave Business Academy
Welcome to Brave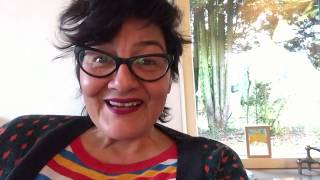 What to do When you Fear Speaking Up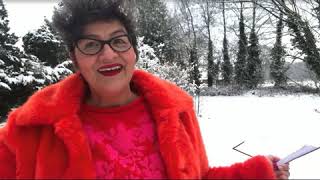 5 Super Simple Actions that will Transform your Business and Brand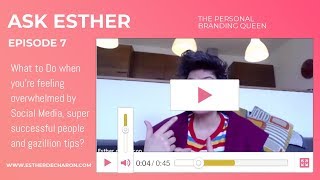 What to Do when you're feeling overwhelmed by Social Media
How to tell the Universe What you Really Want

Are you struggling with the "How Can I communicate with the Universe and let it know what I want. And What I Don't Want!"?

You're not alone.

Like many Brave entrepreneurs, I feel overwhelmed too. I can go into a huge story about why and how. But instead, I made you a video (in a shirt that's covered in cat hair) with a very simple exercise that always helps me. And I think it will help you too.

Inside the Brave Business Academy

I took the upcoming members of the Brave Business Academy on a little Tour Inside.

Welcome to Brave

What does it mean? A Brave Busines and Brand? Everything you need to know.

What to do When you Fear Speaking Up

Do you fear to speak up? Or do you keep ideas to yourself? This is a super simple way to release fear and transform it into your strength.

5 Super Simple Actions that will Transform your Business and Brand

⭐️Is your business and brand in need of a little Oompf? ⭐️ I hear you. We all need a little 'Tadaaaa!' every now and then.

So here are 5 Super Simple actions that will immediately affect you, your business and your brand.

✅#1. Celebrate everything. "Wow, I made a dollar today!" "A new client!!" Yes! Take nothing for granted. Celebration leads to gratitude and that in itself is a powerful message to the universe: "I'm ready for more!" ✅#2. Watch your language. Do you say BUT in the middle of your sentence? Or: "They ALWAYS" or "Nobody EVER"? You are telling your mind - and the universe - that NOTHING will EVER change for you. Say instead: Some people ...or 'sometimes' and in comes Flow! ✅#3. Be Really curious. Don't take anything for granted. Don't think: 'I already know that' (remember your teenage years :-) When you're in closed-off mode there will be no new ideas or Divine Downloads (think of it as a street that is closed-off, nothing can enter the street. ✅#4. Accept that you ARE Unique The best thing about your brand is YOU! Right Now! Not when you Know More or have super pretty hair. It's Now! ✅#5. Understand that your business and brand ultimately is NOT about you, but about THEM! It's about your clients. Find out what it is they need that only YOU can help them with. Go out, meet them, go online and connect.

What to Do when you're feeling overwhelmed by Social Media

"What to Do when you're feeling overwhelmed by Social Media, super successful people, and gazillion tips?" We all experience it: Overwhelm! In this episode, I talk about what you should do when you are overwhelmed by your social media feed, and by all those super successful people you see, by countless tips coming at you from all sides. Those are the moments when you feel invisible, small, tired, somewhat lost - jealous maybe even at your peers. Because you feel like, 'they've got it all' - and secretly you start thinking about 'What it would feel like to give up on your entrepreneurial dream'... Before you give in to any thoughts of giving up on your dream, listen to this episode of ASK ESTHER and find out what you should do instead. Ask Esther is weekly live personal branding coaching, where I coach ambitious female entrepreneurs on how to get more clients, more revenue and more impact with their authentic personal brand.
Quality time and superb support
The way Esther presents herself and her services resonated with my artistic and unconventional way of approaching things. Esther is so colorful, cheerful, confident and sincere. I really felt like I was important to her. She takes a lot of time and effort to 'feel you' and understand what you are all about.

She thinks outside the box and let you look at things from new perspectives. Very refreshing, like wake-up calls. She´s pushing you - very gentle - because you have to do the work.
What exceeded my expectations is the great community Esther has managed to create around her services. Women who inspire, help and encourage each other. Esther spends quality time with her clients and gives superb support to everybody.
It's personal, it's out of the box, it's real, colorful, quirky, and the support is everything you're looking for. Nothing is too strange or out of her league. Esther sees solutions in any field of practice.
Mirjam Blekkenhorst
Owner Ytra Lón Farm Lodge, Solitude Retreats
Working with Esther is the best thing I did for my business
Working with Esther is the best thing I did for my business since I started it! Esther helped me reconnect with myself, get clarity on what I want and set a path on achieving that in a way I am comfortable with and it didn't take long to see the results. I often finish our sessions by calling her a "miracle-doer".

She is incredible at tuning in to your needs, to the situation and identifying (underlying) issues I was not always aware of. I'm forever grateful for Esther's support.
Rayna van Aalst
Founder Reina Organics
Esther will teach you to feel your feminine strengths and connect deeply to your soul clients.
Just to talk to Esther :-) It is a truly feminine approach which is very unusual in the marketing world. To work with the energies, with our own strengths and our own life purpose was great.
I have found my soul clients - which were by the way not whom I have expected. But after that, I could realize a very core strength of mine which I had been refusing to give access.

I could find my zone of genius so quickly and turn it in a program. After only 1 Month I created - and sold - my first 12-month group coaching program for my soul clients
We need to change the world! That's why you need to work with Esther who's going on a new path, working strongly with the feminine energy. If you think that everything else feels like a bubble, you want to find your soul clients and change the world, then you will find help here.
Selen Graf
Health Expert & Healer for Animals and Human Beings
This was is and will be a defined moment in my life
Thank you, Esther, for this amazing trip in realness. This was is and will be a defining moment in my life. I can see the difference, my friends do too. You helped me accept my fear, face and bless my past and dare to build a future for me, the people around me and the world. I am now living with open arms. Ready to give ready to receive.
I learned to ask for help and the answers were awesome... I could go on and on. It was deep. I am going to my paints and my writings now. Thank you to you all beautiful women I felt our joy our fear our sadness and our victories. May our lights shine as we have so much to offer and so little to lose.
Love ya!
Félicité N'gijol
Artist & author
We do not need to do it alone! But, we Need to connect with the right and bright stars, right?
Esther's creative energy, authenticity, generosity, and openness brought to my world the piece that was missing. I saw myself and what my heart was longing for, I reconnected with my inner muse and, feelings that were hiding inside, reawakened (like the joy of motherhood and its real meaning in life and in the creation process), learning that there is no separation.

As a result, everything around me and my world started changing, It was huge! It was real inner work. A huge reminder that trying to "fit" was causing me to feel suffocated.
Yes, yes, and again, yes! We all need someone extraordinary by our side, someone, who can help us with his/her expertise, but most of all, from their own shiny Light and Being. Esther has been that full of colour, bright light for me, and I am very grateful for the opportunity of having her by my side. We do not need to do it alone! But, we need to connect with the right and bright stars, right?

Thank you, Esther, with all my heart.
Tania Blanco
Lotus Idea, Communications w/ Soul & Purpose
Working with Esther removed my obstacles
I needed to know what Esther would hear when I talked my truth. She was spot on to extract the biggest blocks and gave me a specific art assignment which quickly highlighted and removed my sabotage processes...
Anael Roseau​​
health professional
READ
"ESTHER IS MY BUSINESS DOULA, SOUL WHISPERER, CONFIDANTE, MIRACLE WORKER AND PERSONAL BRAND EXPERT"